Paralegal Intensive – is a six (6) week condensed course in Paralegal studies , designed for persons who have at least one ( 1) year experience working in the legal field as a legal support professional. The course is specially designed to serve as a "refresher" course for already certified legal support professionals OR for persons who are seeking first time certification in the Paralegal /legal support profession having only worked in the field without certification prior . The Course is generally offered in April-May or June to July however it is only offered by demand.
Requirements:
* COMPLETED ONLINE APPLICATION
*TRN
*VALID ID (Passport ,National ID, Driver's License)
* RECOMMENDATION LETTER (from legal office) CONFIRMING AT LEAST ONE YEAR'S WORK EXPERIENCE IN THE LEGAL FIELD (Stamped & Signed Letter from Authorized Personnel) OR PROOF OF PRIOR LEGAL EDUCATION TRAINING (Certificate/Transcript/Letter by Authorized Personnel).
-NO CXC CSEC REQUIREMENT -MINIMUM 1 YEAR LEGAL EXPERIENCE MANDATORY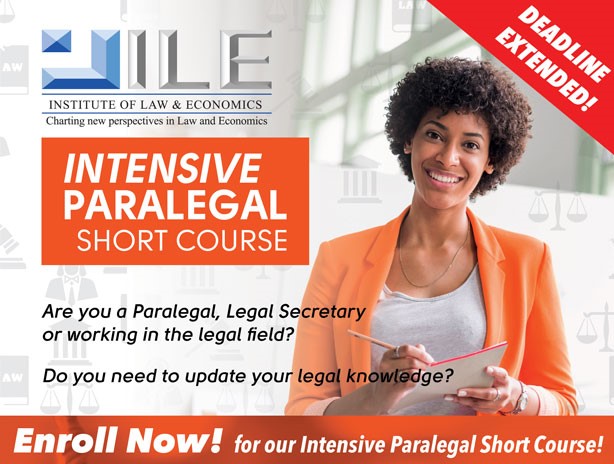 Registration and Payment of Tuition
Early Registration deadline: Monday, September 7th, 2020
Regular Registration Deadline: Friday, September 25th, 2020*Students MUST have experience in the legal field for at least 1 year OR Prior formal legal training to pursue this course .
---
Class Start dates:
Online : October 2020
(Face-to-Face) only available in Kingston: October 2020
Course Fees:
$30,000.00 (Online) $35,000.00 -Face-to-Face (Kingston)